The accompanying thread to these pictures, which contains several pages of information and additional pictures, can be accessed with link ...
https://www.antique-bottles.net/forum/m-600389/mpage-1/key-/tm.htm
The topic of discussion on the thread primarily pertains to the Coca Cola companies request in 1915 for a standardized bottle to replace the so called straight-sided bottles being used at the time. The request went out to numerous glass manufactures, of which there were supposedly eleven contacted but only two of which are confirmed known today - Root Glass of Terre Haute, Indiana and Graham Glass of Evansville, Indiana.
And even though it is not known who the other nine glass manufacturers were, the final selection of the new standardized bottle took place during the January 1916 Coca Cola bottlers convention held at Hotel Ansley in Atlanta, Georgia. It was during that convention, which ran for three consecutive days - Monday January 3rd thru Wednesday January 5th, that a seven member committee of Coca Cola bottlers voted and selected the Root Glass/Earl R. Dean design to become the companies new standardized bottle - which is often referred to today as the contour/hobbleskirt bottle. One of only two known Root/Dean bottles sold at auction in 2011 for an unprecedented $248,000.00 and the accompanying penciled sketch for an additional $228,000.00.
It was also during the 1916 convention in Georgia that a George H. Krempp of Jasper, Indiana, whose family had been in the soda bottling since 1870 and a Coca Cola franchise bottler since 1910, reportedly "acquired" one of the non-winning bottles which apparently had been submitted by the Graham Glass Company. It is believed the Graham bottle is a one of a kind and is currently owned by Gary Salb, who is the great-grandson of George H Krempp.
For a more detailed account of the information above, please access the link I provided for that thread.
The pictures that follow are from the thread, which I hope turn out okay as this is one of my first attempts using Photobucket. I hope you enjoy them. Please feel free to post additional pictures if you have some that are subject appropriate.
My thanks and appreciation goes out to everyone who contributed to the original thread, and especially to Gary Salb for sharing his amazing Graham bottle with us.
Bob ... a.k.a. Sodapopbob
~ * ~
Atlanta Constitution Newspaper Ad ~ January 3, 1916
Atlanta Constitution Newspaper Ad ~ January 4, 1916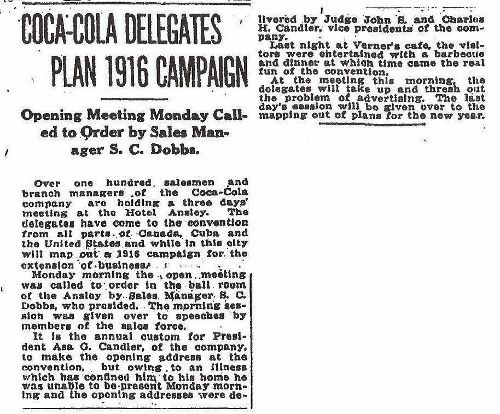 Hotel Ansley ~ Atlanta, Georgia ~ 1913 Postcard
1916 Coca Cola Bottlers Convention Pin/Name Tag
1915 Earl R. Dean Prototype Sketch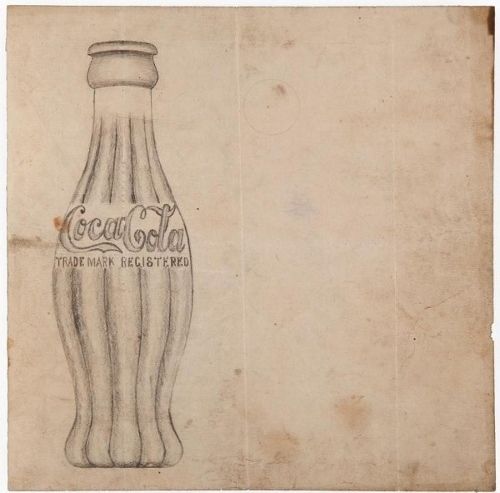 Image Of Cocoa Pod That Earl R. Dean Used For His Bottle Design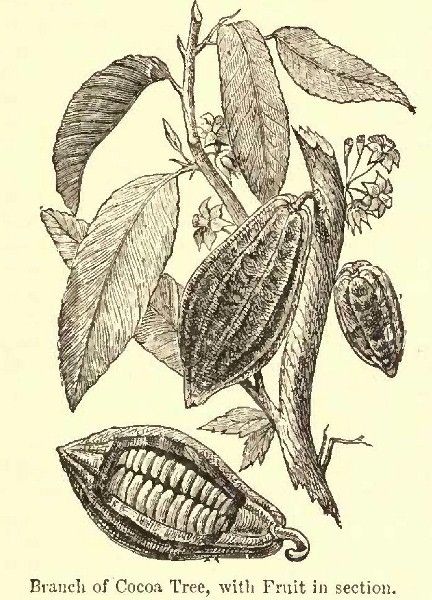 1915 Root/Dean Prototype Bottle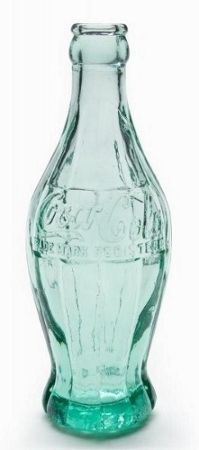 1915 Root/Dean Prototype Bottle Base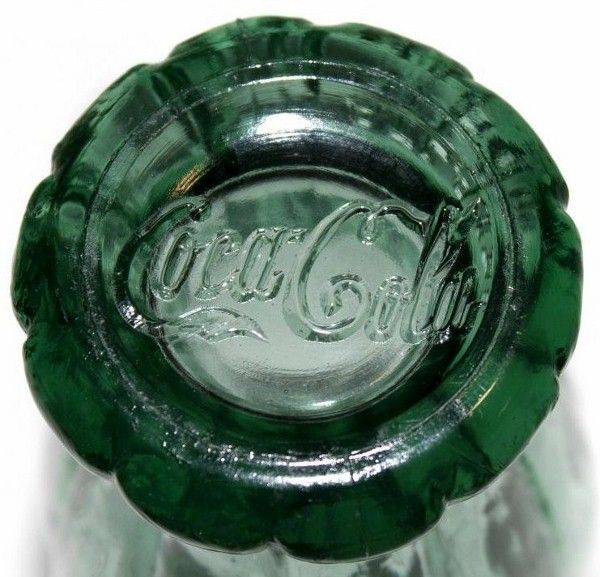 1915 Root Glass Bottle Patent
1916 Ray A. Graham Bottle Patent
Graham Prototype Bottle
Graham Prototype Bottle Base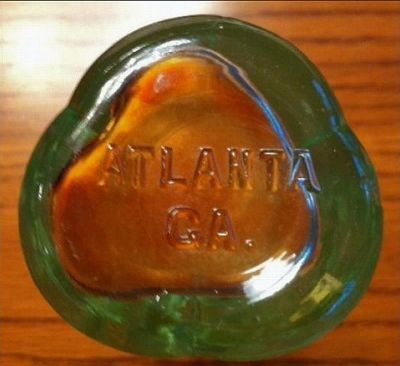 Magazine Article Related to the Graham/Krempp/Salb bottle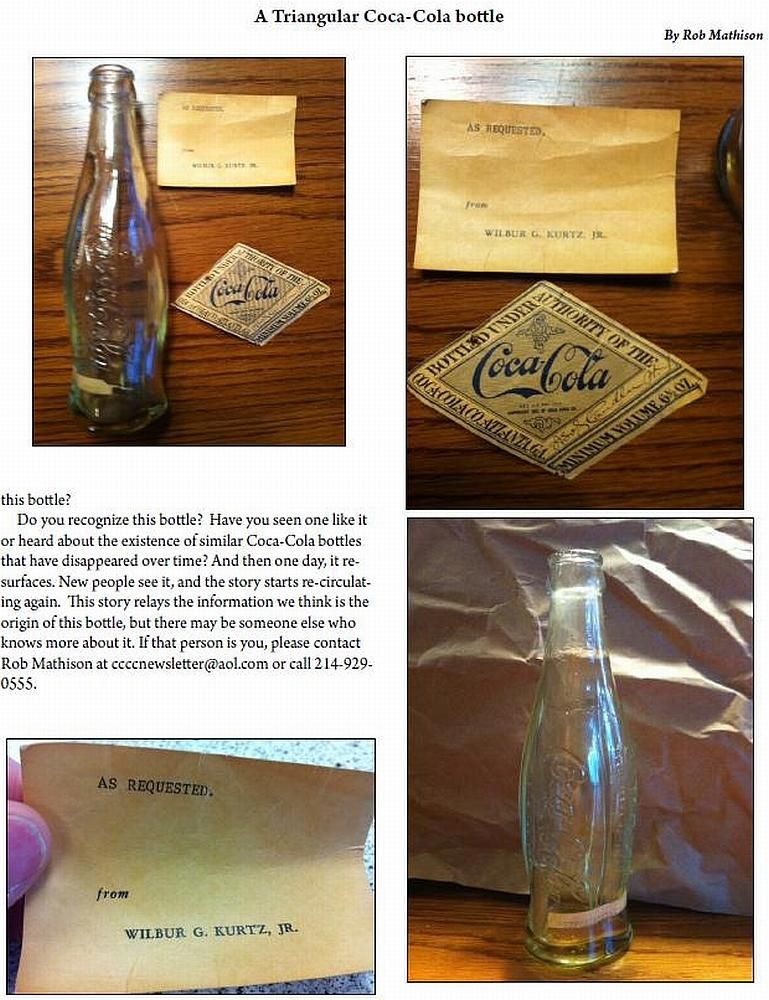 George H. Krempp / on left ~ Circa 1910 ~ Jasper, Indiana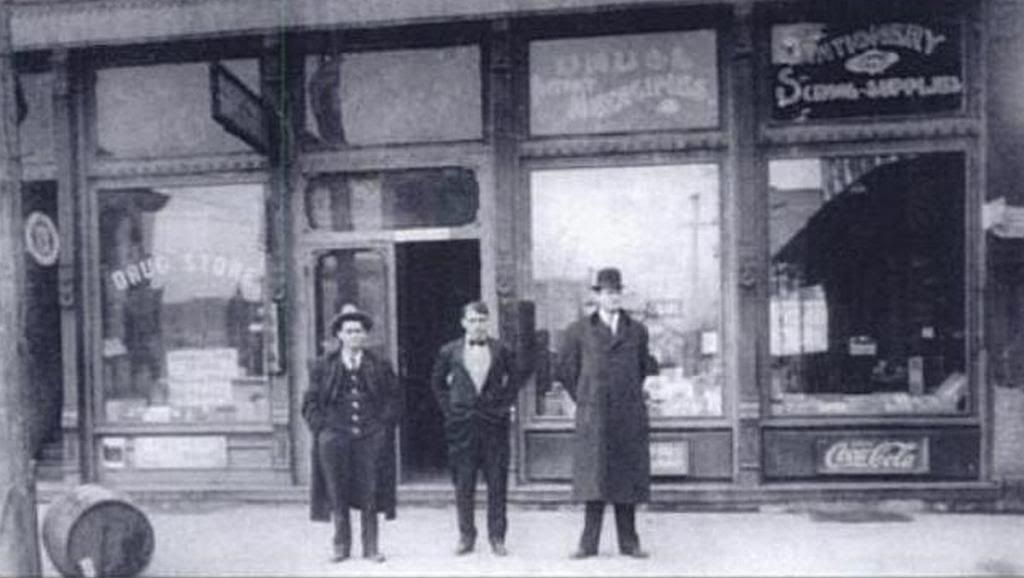 Norman L. Dean Book ~ Son of Earl R. Dean ~ About The Famous Contour Bottle
These last two pictures are of a as yet unidentified bottle and it's accompanying patent. Although unconfirmed, it "might" be one of the other nine contender designs that was submitted during the 1916 convention. Notice the Coca Cola script signature on the shoulder, which is unknown for this type of "flavor" bottle. Also notice the 1916 date on the patent image.