noticed an ebay seller posted a bunch of bottles , have several different bottles up from A.E. Burke Brantford . are a couple various smaller size soda bottles , some for ginger beer . also a larger quart bottle. though they were interesting enough to share with the site
Brantford isn't an area I focus a lot of time collecting bottles from although it does have a number of different bottles . A E Burke seems to have started operating around 1910 and lasted into the 40's . and was one of the main ones but was a couple others . this seller also has a bottle for Montgomery mineral water co - Brantford .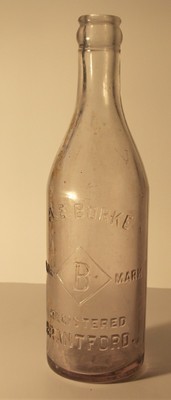 Find many great new & used options and get the best deals for A. E. Burke Old Ginger Beer Bottle - Brantford, Ontario at the best online prices at eBay! Free shipping for many products!