Yesterday, a couple of diggin' buds talked me into going along on a walk in the Sierra forest to check out a long abandoned mining town. Believe it, or maybe not, but it was 20º warmer at 4500 feet than it was down in the valley. . I drove my PU because it has 2 seats and I didn't want to be crammed into a single seat truck. 15 miles up a dirt road after leaving the pavement 65 miles from home. We arrived at the site at 0930 and it was already 80º and that alone made me weak.
Shouldering our packs we set off for the 3/4 mile trek to the site. Les than a mile doesn't sound like much, but for me it is a LONG way. Here we are passing through a flowered meadow that had a nice spring that was full of deer and bear sign.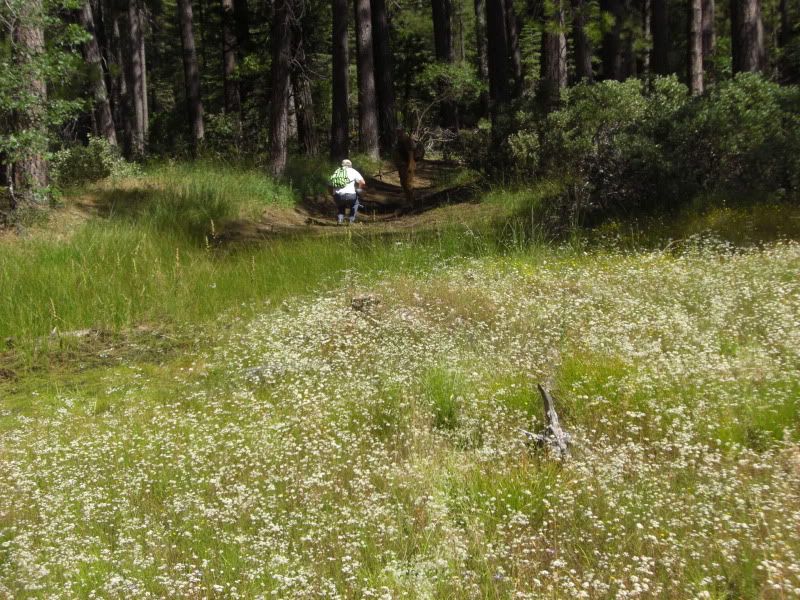 Not long after arriving at the town site a stone lined basement was seen. nothing remained except for the collapsed stones and a few rough hewn timbers that survived 130+ yrs of time. Ancient cans, tin and riveted piping littered the forest floor, but little glass was evident. The mosquitoes were a serious bother to my friends, but they wanted nothing to do with me. I laughed as they slathered on the Cutters. I guess one good thing about exuding the chemo chemicals would be that biting bugs stay away. Anyway, they probed around and I rested on my butt watching their efforts. One little pit was soon found that had glass in it. Mostly busted, but a few did come out complete. No "heavies" this time, just common stuff. Here is an 1880s wine resting where it has for decades.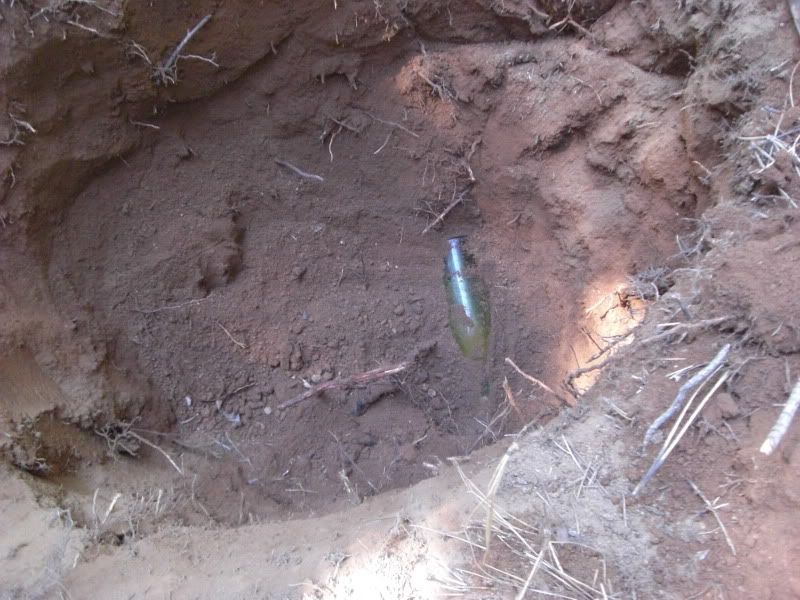 The boys were getting entirely too dirty and the sun was a bother, so I walked back to my truck to rest in the shade. Lung cancer makes for some tough hiking conditions, but what the heck. You can't sit home and whine about it. After a while they also returned after stopping at the spring and washing up. They had 2 lousy bottles for all their digging effort, the wine and a 6" round unembossed med. They are more sentimental than I am, feeling that any bottles from a mining camp are keepers. I would have left those there. Sorry that there aren't more pics, but since mine was the only camera on scene, I was too lazy to bother with it.