noticed this one appeared on ebay , odd location The Pas Manitoba . known more as a forested mining town in northern Manitoba not as a farming area but apparently is still some agricultural land up there as this dairy operated in the region .
acl jug features a farm scene " frechettes dairy " phone 42 , pasteurized milk and cream - The Pas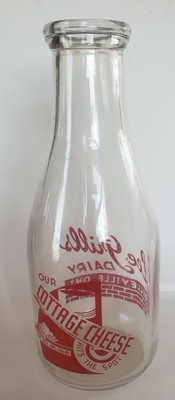 Find many great new & used options and get the best deals for VINTAGE LEE GRILLS DAIRY BELLEVILLE ONT. SILK SCREEN QUART MILK BOTTLE at the best online prices at eBay! Free shipping for many products!