Joined

Oct 26, 2009
Messages

649
Reaction score

0
Points

0
Location
After 2 and a half years I finally have a dig spot to call my own. Today, I decided to try and find a new spot. I went up on the side of the Pemigewasset river and walked downstream from a large bridge. Although the water is still high from the flooding, it has come down a lot and washed away a LOT of debries, which is very much in my favor. I looked for about 45 minutes after just giving up looking there, with finding just 1 Foss. I thought to myself, "I've gone upstream, but never on the opposite side of the bridge. I remember a forum member telling to look there, so I think I'll give it a try". So, I started out, not much different, then all of a sudden I see this...
Took a while to get out. A Soda Water from Coca-Cola.
Not really what I collect, but a good sign. I went upstream a little further, and I started to find a lot of shards and even some intact (but worthless) bottles.
I couldn't believe my eyes when I saw this. The high water must of shifted it up on to the rock.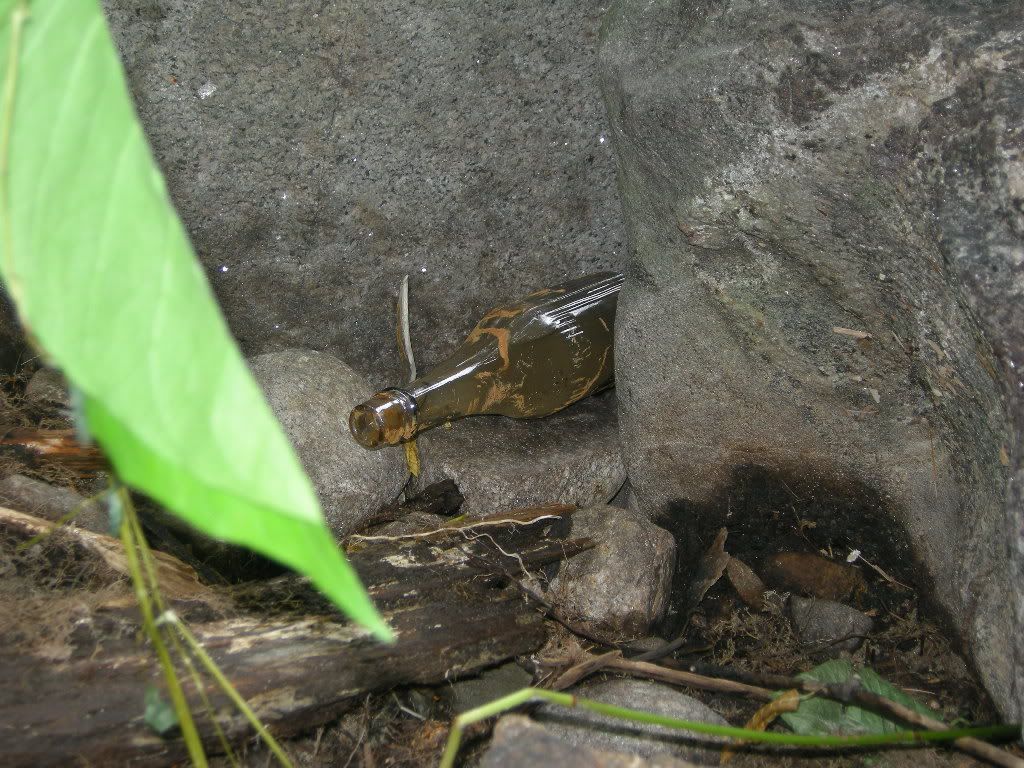 Soon I was seeing intact bottles everywhere, and then sitting right out in the open was this big BIM cobalt chemist bottle. Couldn't believe it.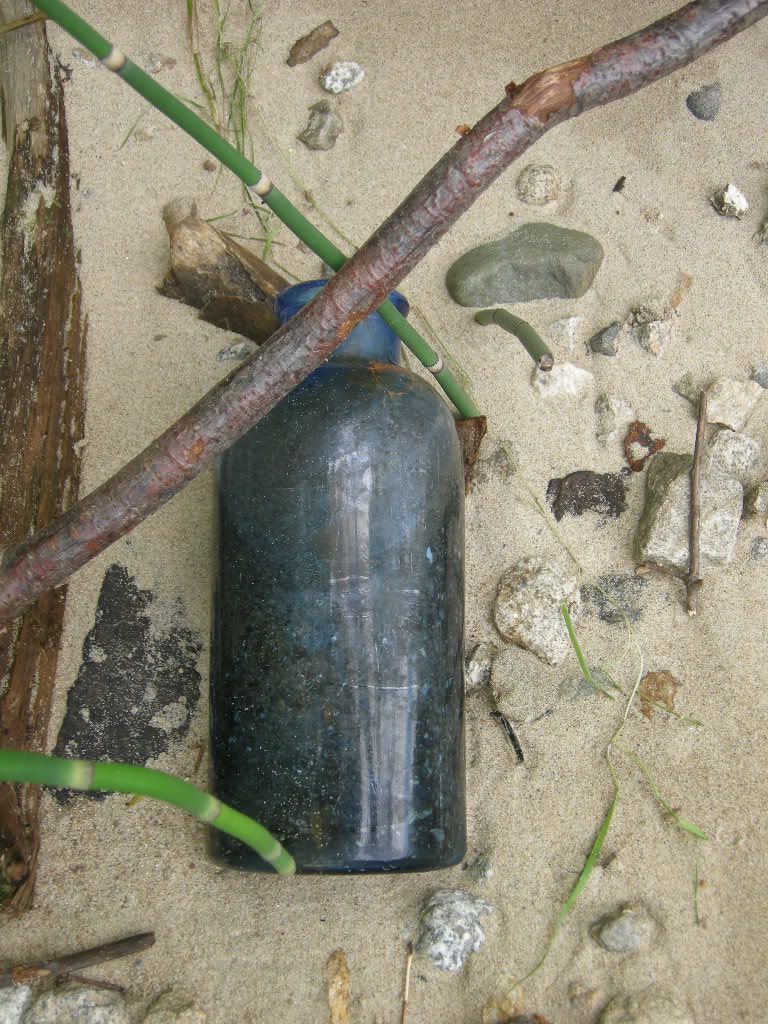 I knew I had found it by then. Just a few steps over I found a dump...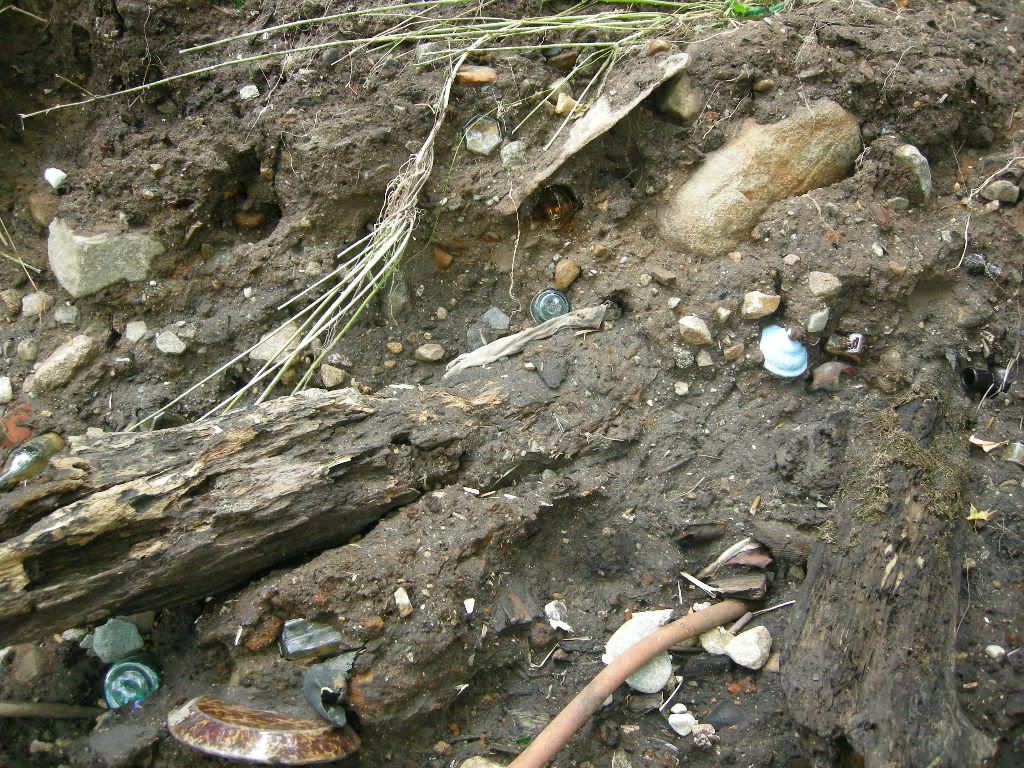 A Maltine MFG Co.
Quite a bit of branches and trees stacked up...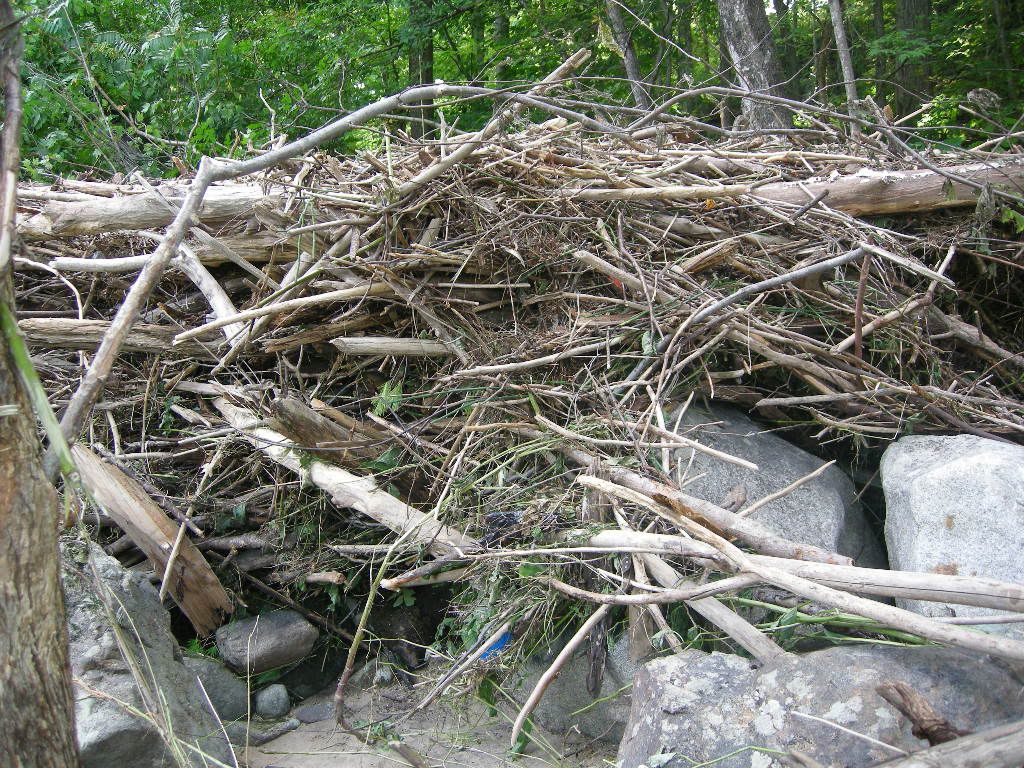 Mini Foss!!!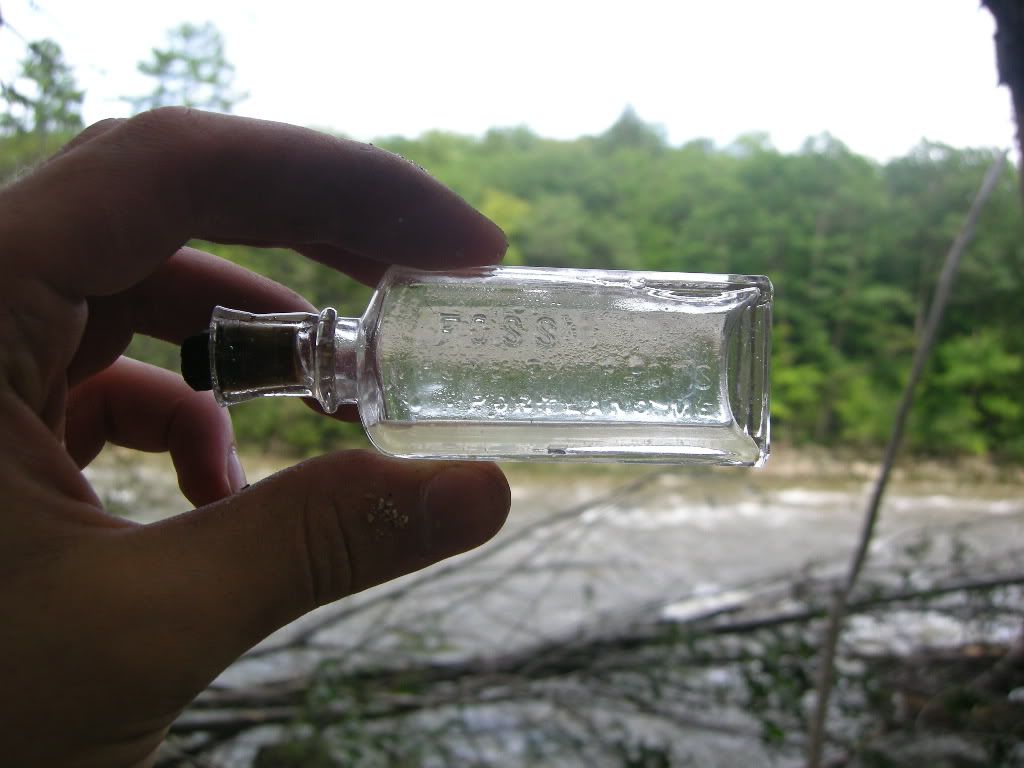 I found so much stuff, that I couldn't bring it all back! I left the jars, the redware plate, the big green wine, and some shards for next time. This area has some great potential, and quite a wide range of dates. I was pulling things out from the 1870's to the 1970's.
The finds cleaned up...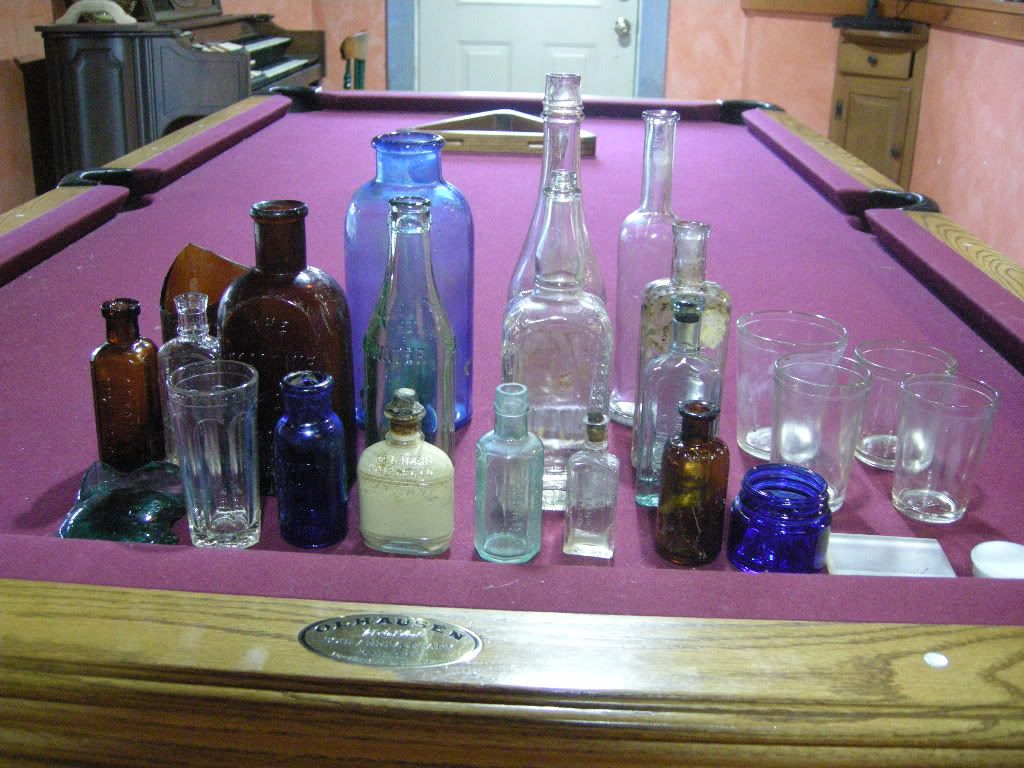 Soda water and the Maltine. The soda water is a little beat up and the Maltine has a lot of wear and a large open bubble, but it still displays nice...
Here are todays criers. Half of a Derma-Balma, and what appears to be the base of a Townsends or some other large Med.
A Larkin Soap with most of the soap sealed in it, The min Foss ( has a few lip chips
), and Hoppes No. 9. Never heard of that one. All BIM.
A Wildroot (newer), a milkglass top, and the top of a promotional paperwait. The bottom was there too, but it was beat up and the paint was falling off rapidly.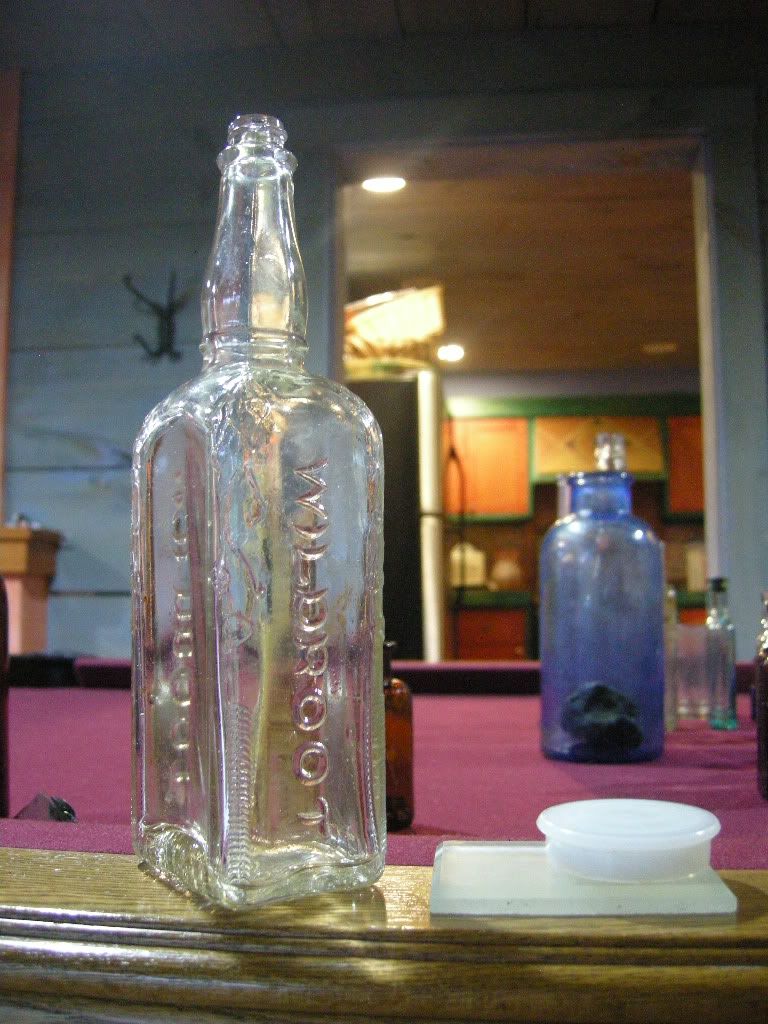 Here is the BIM cobalt blue chemist. It has a little wear, but overal it is in really nice condition. The only problem is that it has a bone stuck in it. I think it was in there when it was thrown away, and it swelled from the water and will not come out. Anyone know how I can get it out? I'll probably make another post in " Cleaning and Reapairing".
Here is what I think is the best find of the day. A sample size Dr. Wistars! I was so excited when I pulled this one out. I know it isn't worth a whole lot, but you certainly don't see it as often as the big sized ones. Pretty good condition for being in the river for 130 years, with only a few small chips on some of the letters. I love it, and I didn't even have to buy it!
Nothing great, but the best I've gotten, and there is plenty more finds still there, I know it.
Thanks for reading!
``Michael