i don't really pay much attention to insulators but noticed a purple Canadian Pacific insulator was generating some buzz on ebay, a seller who had also posted some bottles had it for sale . its already got 7 bids and around $50 with 6 days left . I assume its more desirable cause its purple . as Canadian pacific was a major railway so I'd assume there is a lot of CP insulators around .
I have a aqua /light blueish Canadian pacific ry co one that I found at a yard sale years ago and been sitting on a shelf since , assume it would clean up more . not sure if its collectable or not ? I bought it at time cause of cp wording on it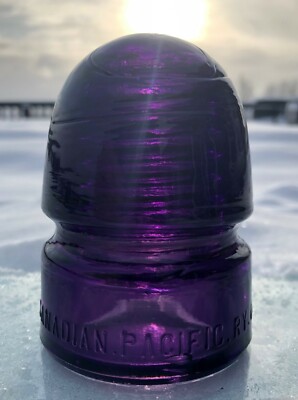 Find many great new & used options and get the best deals for Purple CANADIAN.PACIFIC.RY.CO glass beehive insulator at the best online prices at eBay! Free shipping for many products!