Joined

May 17, 2012
Messages

4,899
Reaction score

2,185
Points

113
Location
Collection of old wartime newspapers looking for a new home
Discovered in the pile, a story about heroic North Bay nuns who saved 24 nurses from a fire at St. Joseph's General Hospital
With newspapers screaming headlines like "BERLIN SPREADS DEFEAT ALARM" and "ROMMEL'S ARMY BUSTED," history buff Italo Servello of North Bay scans through hundreds of Toronto Star World War ll papers, fascinated by the tales being told.
Servello recently bought the 1940s era newspapers and magazines that were found stuffed into the walls of the "Flanagan House," a former trading post in Nipigon Ont.
Newton Flanagan had spent half a century as a Hudson's Bay Company employee in the late 1880s.
The house was undergoing renovations when the treasure was discovered. An ad on Facebook was selling newspapers for $5 each.
"I have a huge interest in this," Servello told BayToday.
The seller brought four big, blue plastic bins full of newspapers, dropped his price, and dropped them off at Servello's Lakeshore Drive home.
Servello took them all because he was concerned the papers would be destroyed and unavailable for future generations to read.
Already, a couple of bins of World War 1 papers had been taken to the dump by a worker who didn't realize their value
.
"I want to take these and make them available to museums," he said.
The papers sold for 3 cents each, or 18 cents weekly.
Servello started going through the stash and was amazed to see the headlines, detailing major events of the war.
He even discovered in the pile, a story about heroic North Bay nuns who saved 24 nurses from a fire at St. Joseph's General Hospital.
Two Sisters of St. Joseph stayed at their posts inside the burning building until all the nurses in the residence were safely evacuated. (See photo gallery above)
The 3 a.m. fire destroyed the brick three-story building.
"They did their duty," said their Mother Superior.
Also in the bins are war-era Hollywood magazines in mint shape, one features movie star Maureen O'Hara on the 1942 cover.
Servello doesn't want to see these slices of history go to waste, and is hoping they can be displayed to the public in some way.
"If I throw them away, no one gets to see them, and where can you find this type of history...you can't."
He describes himself as a "history buff" and will keep some items for himself.
"But I truly believe they should be in a museum, or several museums across the country because this is really Canadian history. Some of these newspaper companies don't exist anymore.
"Just to read these articles from the 1940s, not just of the war, but daily life. It gave me a sense of what the world was like in those days."
Got an idea?
You can contact Mr. Servello at
tonyvegas911@hotmail.com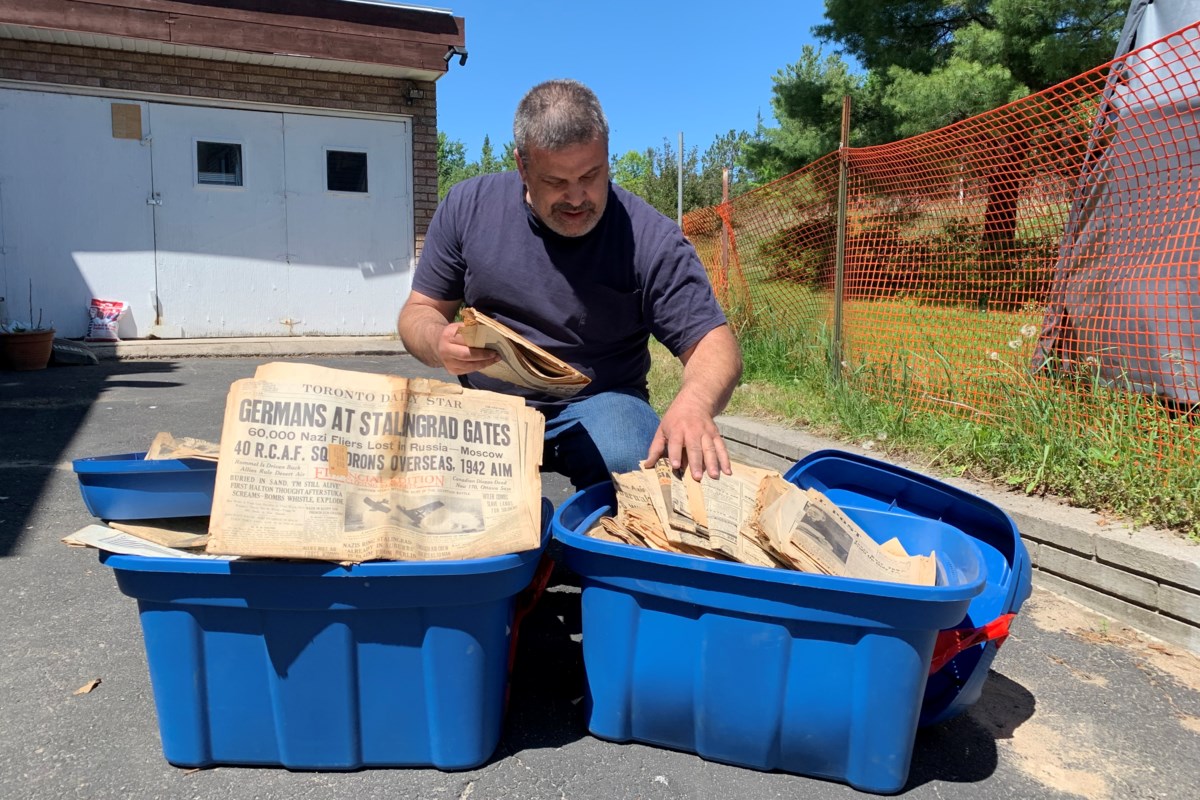 Discovered in the pile, a story about heroic North Bay nuns who saved 24 nurses from a fire at St. Joseph's General Hospital

www.baytoday.ca
Last edited: