Joined

May 17, 2012
Messages

4,890
Reaction score

2,170
Points

113
Location
[h=1]Search yields promising find on The Curse of Oak Island two-hour finale, says executive producer[/h] Oak Island series creator Kevin Burns says after overspending their budget on a fourth dig, Rick and Marty Lagina uncover a fascinating find in the season 4 finale.
6.3K
Feb 17, 2017 1:42 PM by: Erin Pottie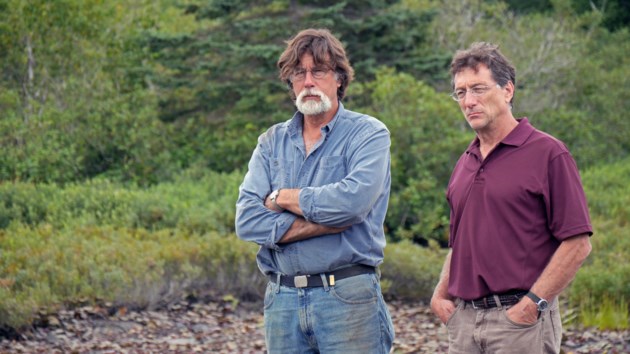 Michigan brothers Rick and Marty Lagina continue their search for buried treasure on Nova Scotia soil when the season 4 finale of The Curse of Oak Island airs Feb. 26 on the History Channel.
After a season of setbacks in the hunt for buried treasure, The Curse of Oak Island is promising to deliver on what could be its series finale.
Kevin Burns, series creator and executive producer, says American brothers Rick and Marty Lagina will uncover a fascinating find when season 4 of the popular History Channel program ends next week.
"There were a lot of big frustrations this season and you see that," Burns said in a telephone interview from Los Angeles. "The second to last episode you see quite a bit of it and they reach a real crisis.
"I mean Rick and Marty hit a wall, but they did have a breakthrough. ... Every year we seem to get this weird, weird break of a find before the end of the season, which is all I can tell you. That's why we literally went from a one-hour finale to a two-hour finale because the material we got was so incredible."
Oak Island, on Nova Scotia's South Shore in Lunenburg County, has been mired in mystery since 1795, when local teenager Daniel McGinnis discovered a bowl-shaped depression near a tree that appeared to be man-made.
When he later returned with two friends, the boys would dig up flagstone and layers of timber buried at 10-foot intervals. Since their initial discovery, there have been no fewer than 17 expeditions mounted and millions spent searching the island, including what later became known as the "money pit."
For their part, the Laginas and their team have spent a pirate's ransom in their attempt to unravel the mystery. In what is considered their largest expedition, Burns said the Laginas sunk somewhere between $3 million and $5 million in season 4 alone.
"They only had enough money this year to dig two big holes in the money pit site. They did them fairly early; they turned up interesting things that have already been screened but they didn't find the vault or the money pit.
"They decide to dig a third hole and that has mixed results and then they do a fourth hole, and that hole is what recommended a two-hour finale. Is there stuff that was turned up in that fourth hole that is incredibly interesting? Yes. I honestly think that if you thought the Spanish coin was a big find in season 1, people will love season 4."
One thing fans won't be hearing about in the upcoming finale, however, is information as to whatever happened to a bone that was recovered from Borehole 10X.
"People are so obsessed with that bone! You will not find out about the bone, only because — and you can blame me — because I just let it go. It turned out not to be that interesting and so when we did get the results on it, we just never addressed it, but I have to confess I didn't think anybody would think that much of it and it's all I hear about."
An accomplished producer with several hit television shows under his belt, Burns has confessed that he himself is just as intrigued with the Oak Island mystery as the show's legion of fans.
"It is a constant interest and surprise to me," he said. "I go on the same roller-coaster ride that the audience does; meaning there are times when we're REALLY excited because we think 'Aha' we found it and there are other times when we go, 'Damn, we didn't find anything, it turned out not to be what we hoped for.' "
But it was only about six years ago that Burns said he learned of what's considered the world's longest-running treasure hunt. At the time, he was told a TV show would be unlikely as the treasure search was controlled by two long-standing rivals.
So when new partners arrived on the scene, Burns and fellow producer Joe Lessard jumped in a car and drove five and a half hours from Detroit to Traverse City, Michigan, to have dinner with the Laginas.
"That was my opportunity to basically beg them to trust me to do a television show with them," said Burns. "They were really not interested, until we kind of sat down the next day and we had a different conversation."
It was during this talk that Burns discovered Rick Lagina had become obsessed with Oak Island after reading a short article in Reader's Digest when he was a young boy.
"I said, 'You know Rick, when I was 10 years old one of my favourite television shows was Lost in Space and I became obsessed with it and when I got to work at 20th Century Fox I met with Irwin Allen, and I met and I befriend Irwin's widow when Irwin died, and I now I control the rights to Lost in Space, like you control Oak Island, and now we're doing a new Lost in Space series. I know how important it is for the 10-year-old boy to grow up and realize his life's dream and to have that opportunity to play that dream out and the incredible thrill that is but also the big responsibility that is.' And I think that did it."
One of the major concerns of the Laginas, said Burns, was doing a show and not finding anything. They were then reassured that the production was not about the endgame but about the journey.
"They could find a big something and what I would still want to know is that all there is, because there are so many indications that there may not just be one treasure on the island. Even if what they found was evidence that there had been treasure but that it had been removed, I personally think ... the treasure is found in the history that they are unearthing."
Asked about filming another season, Burns said the network would jump at the chance but he cautions that the decision rests with the Laginas.
"We are not set to come back for another year, take of that what you will," Burns said. "Every year the brothers are very reluctant to agree to do any more. This was always a hard sell for them. They did not approach us. They are not eager television personalities. I think they're great on TV but they were very wary, which I understand. They were not big reality show people, they didn't want celebrity, they didn't want fame. They really didn't. They're very humble, particularly Rick.
"Four or five months a year away from their families and the conditions can be very gruelling, and Marty and Rick are wonderful guys."
So, does Burns believe there is more mystery to be found on the 57-hectare island?
"Do I think there's more of the story to tell beyond this season? Yes. I think you could do 10 years on this show and you could find lots of things and lots of treasure, and I would still not be convinced that's all there is to the story.
"I think Oak Island has many, many, many stories to tell."
The two-hour season 4 finale airs on Feb. 26 at 11 p.m. Atlantic time on the History Channel in Canada and Tuesday, Feb. 21, in the United States
https://www.localxpress.ca/local-ne...wo-hour-finale-says-executive-producer-538730