Joined

Aug 27, 2003
Messages

63
Reaction score

0
Points

0
Location
Many of you probably do not know or have never heard of Dave Cutler of Queens and formerly of the Empire Diner on Manhattan's West Side, but what you do understand was his desire to find treasure. And he was extraordinarily good at the hunt, finding everything from coins to bottles to stoneware to marbles to gold and diamonds. On Tuesday evening, after a relatively short fight with cancer, Dave passed away in his sleep and left us to treasure hunt for him.
There are many from all over this country that do know Dave, as a fellow treasure hunter and digger. Ted Botha wrote about him in Mongo (
Botha book
), and the pages of many bottle digging and metal detecting magazines chronicle his finds. Dave's approach was unusual and wholly intuitive, rather than based on research and logic, but his results were the stuff of legends.
Dave found gobs of silver coins and even a few gold ones, too, wandering the parks of New York City with his metal detector starting in the early 1970s. In fact, as I type this post, I remember that day in 1987 in Madison Square Park, which we metal detected as it was being renovated, when Dave called me and my buddy Dean Pollack over to show us a freshly excavated 1798/97 over date, 13 star variant Flowing Hair Liberty Bust Dime in extra fine condition. (Look that up.) I also recall the time that Dave picked up an intact Crolius stoneware jug with cobalt-painted grapes from a dredge pile in New Jersey. (Look that up.) Dave's apartment walls was lined with a display case that was a constantly changing collection of New York's finest colored pontiled bottles -- everything from Jerome's Hair Color Restorers to a run of 8 different colored Lyon's Powders to a feast of sided, cobalt and green mineral waters from New York and New Jersey. (I think you get the idea.) Interestingly, everything Dave found moved on to a new owner. Dave was in it for the hunt and the find, and did not need to possess things for long to enjoy them. (It is my understanding that many of his recoveries have found their way into the collections of fine institutions such as the New York Historical Society, Norwalk Historical Society, American Numismatic Society, Corning Museum of Glass, and the Queens Historical Society.)
However, all of these finds paled in comparison to his best treasure hunting adventure. In 1996, Dave figured out that the old, brick-lined sewers of New York were being cleaned out and the scraped residue being dumped in storage bins until sent off for waste processing. Normally something you might avoid -- but not Dave, who managed to talk me and Scott Jordan into building small sifters and going through the mucky, stinky gravel. Scott and I both said that we would do it once but never after. Wrong! Over the course of the next few months, this muck produced tens of thousands of coins, marbles, toys, buttons, dentures, and pieces jewelry -- going as far back as the 1870s. Indian Head cents, Buffalo nickels, Seated dimes, Barber quarters, Walking Liberty halves were everyday finds. Literally compound buckets of clay and glass marbles were taken home. And the jewelry was extraordinary as it could have outfitted a store in New York's famed 47th Street Diamond District. Even in the wake of some remarkable carats and hundreds of ounces of precious metals, the best item recovered was a first issue Superman ring that Dave sold at auction and bought a new car (for digging, of course).
Dave had a remarkable talent for finding treasure anywhere and everywhere. However, what was also special about Dave was that he was always even keeled. Nothing, and I mean nothing, got him upset. Yeah, he might whine or get squeaky about how it was too cold or that he was hungry or that some woman had not called him back but in 25 years that I knew Dave, he never once raised his voice or got angry. There are not many people you can say that about. Even when frustrated, he would just look at you, tilt his head sideways a bit, and "come on.†He would share everything from his last bits of food, his last dollars, his last tank of gas, and literally the jacket on his back. He had malice toward none – he just wanted to find one more treasure.
Below are a few images of Dave from the relatively recent past, finding crucibles at the Gautier factory in Jersey City, breaking open a privy in Manhattan, showing a couple of sided cobalt sodas found in a Brooklyn cistern, and my last dig with Dave (along with Fireman Jack Fortmeyer, Buddy Nutwell, and Scott Jordan) when we dug at least 6 privies and cisterns dating from the 1830s to the 1870s on a construction site in Williamsburg.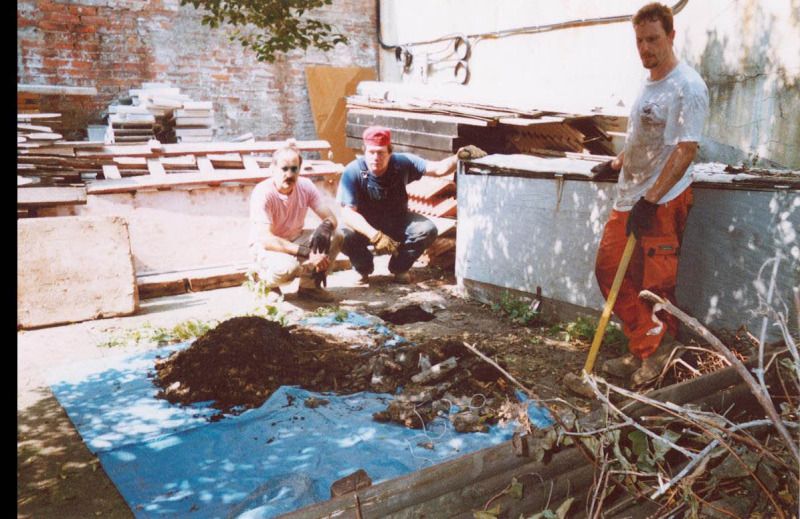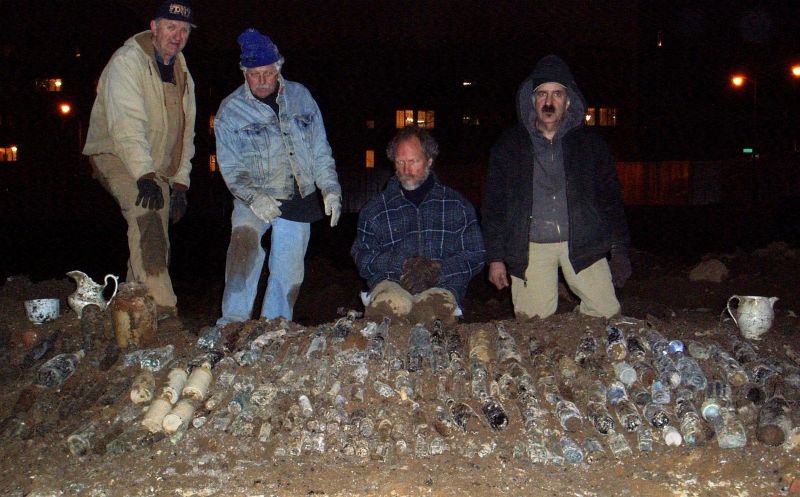 Dave, thanks for some great times and memories. We will miss you.