another interesting bottle I noticed on ebay was a Blackwoods hutch bottle from Winnipeg Manitoba . assume it date from the 1880's - 1890's era . I know that it was one of Winnipeg older bottlers and operated there for a number of years as they have some other bottles which are known for featuring nearly full writing / letters on the bottle so other bottlers couldn't use them .
this one is an aqua colour hutch bottle with big wording of " Blackwoods Winnipeg "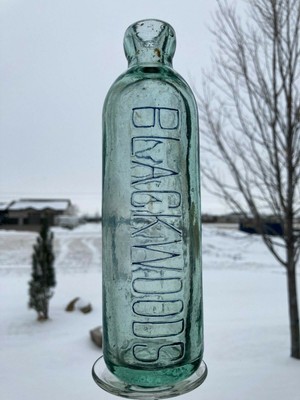 Find many great new & used options and get the best deals for BLACKWOODS WINNIPEG Canada Soda Bottle at the best online prices at eBay! Free shipping for many products!