noticed this one online , obviously seen Mission Beverages bottles before although I don't think that I have any even the common clear ones . but this bottle is in green , seller says its an uncommon variation and hard to find. most of his bottles seem to be from the thunder bay area and my book lists a Mission bottler there so I suspect that's where its from .
on label " bottled by quality bottlers everywhere , under license of Mission Dry corporation " Mission Beverages , naturally good . contents 6 1 /2 oz
on back - naturally good , also mark on bottom that appears to say mission dry corp and a dominion glass mark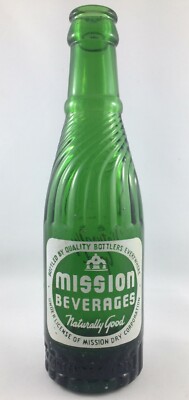 Find many great new & used options and get the best deals for Green Mission Beverages soda bottle at the best online prices at eBay! Free shipping for many products!